Medication Financing for the Fertility Pharmacy Care Card
®
(Patent Pending)
Sign Up Today and Save Hundreds of Dollars on Eligible Fertility Medications.
The Fertility Pharmacy Care Card® provides fertility medication discounts to infertile patients. The Fertility Pharmacy Care Card® is a cash only program with significant discounts on infertility medications for themselves, their egg donor, and when needed their surrogate.
It's as easy as...
Purchase and activate your card online.
Fill your prescription at a participating Walgreens pharmacy.
Walgreens Gift Card is mailed to you after your first fertility medication order is filled.*
* State law restrictions mandate gift card offer invalid if prescription drugs are shipped to, shipped from or picked up in AR, ND, NJ, NY or Puerto Rico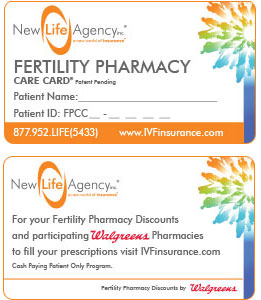 Fertility Medication Financing may be applied for today!
Fertility Pharmacy Care Card

®

Cost and Terms
Enrollment Cost
$25.00 Due prior to discounts received
FREE Enrollment through the Assisted Reproduction Insurance Program

®

Enrollment Term
The Fertility Pharmacy Care Card

®

remains in effect for the duration of your process and treatment with your IVF doctor.
Exclusions
Gonal-f medication.
Requirements
Patient or Doctor must call, fax or bring prescriptions to a participating Walgreens location with Patient ID for fulfillment.
Fertility Pharmacy Care Card

®

Summary of Discount Benefits
Savings for IVF Patients, Surrogates and Egg Donors
$100 Discount for each $1000.00 purchase of eligible stimulation medication.
Savings on IVF Pregnancy Hormone Replacement

Eligible patients with commercial prescription drug insurance pay no more than $50 for a minimum purchase of 10 applicators. Eligible cash paying patients pay the first $50 of the Rx cost for a minimum purchase of 10 applicators. A maximum reimbursement limit of $125 applies, and the patient will be responsible for any balance of the co pay or prescription cost.
The Crinone® coupon is valid for up to 4 fills at the same pharmacy.
Crinone® coupon expiration date 12/31/2014.

Up to $100 savings each month on ENDOMETRIN® (progesterone) Vaginal Insert.
One use every 2 weeks. Minimum prescription of 21 inserts required.
Valid for eligible insured and cash-paying patients.

FREE Gift Card
$25.00 Walgreens gift card FREE after your first medication order is filled.* Gift Card valid in any Walgreens location store.
* State law restrictions mandate gift card offer invalid if prescription drugs are shipped to, shipped from or picked up in AR, ND, NJ, NY or Puerto Rico